The state of South Africa's news media: Where's the substance?
(Read article summary)
This weekend's coverage of fiery ANC Youth League leader Julius Malema missed his reasonable arguments, and focused instead on scoring political points.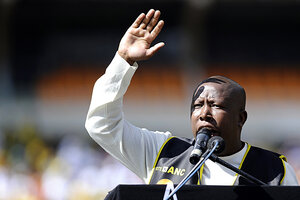 Stephane De Sakutin/AFP/Newscom
Johannesburg, South Africa
Media has the most power to drive how a country views itself and is viewed by the rest of the world. It has the power to shape how the different groups of people see themselves and each other. Media can direct the conversations, highlight the plights, and uncover the faults of a society.
Nowhere is this more true than in a racially conscious and often divided country. Here in South Africa, the responsibilities toward fairness, accuracy, accountability, ethics, and honesty are further heightened. Citizens of this country rely on the media for the truest account of events, a fair analysis of their implications, and a completeness and thoroughness in the assessments of the different angles of a story. In an ideal world, people should rely on media to expose them to their own ignorance, and challenge them to think beyond prejudice.
I watched Julius Malema's closing remarks at the African National Congress Youth League (ANCYL) Conference expecting the usual DRIVEL often quoted to me by my favorite online and print newspapers. I was very surprised to hear a man who might not win the Nobel Prize in Economic Science, but has a deep and personal understanding of the plight of poor South Africans.
Unemployment rates have been conservatively estimated at 25%, double that figure for youth. According to the statistics used by Mr. Malema, less than 5% of land has been redistributed since 1994, far behind the goal of redistributing 30% of farm land by 2014. The government and private sector have failed to address these issues, leaving the hardest hit group, young South Africa, with no choice but to act. There is no denying Malema's point that after seventeen years of democracy, both government and the free market system have failed to effectively address poverty and unemployment in this country.
---