What does Al Shabab's withdrawal from Somalia's capital mean?
(Read article summary)
The Islamist group Al Shabab withdrew from Somalia's capital city, Mogadishu, this weekend, but whether that is a sign of success for the African Union mission and Somalian government is unclear.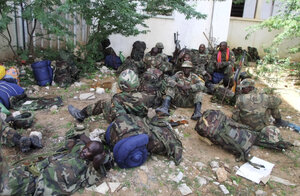 Farah Abdi Warsameh/AP
On Saturday, al Shabab, southern Somalia's Islamic rebel movement, pulled out of the capital Mogadishu. For months, Somalia's Transitional Federal Government (TFG) and approximately 9,000 troops from the African Union Mission for Somalia (AMISOM) had been battling al Shabab block by block in the city. In July, Boubacar Diarra, the head of AMISOM, argued in Foreign Policy that the battle for Mogadishu demonstrated what the force could accomplish with donor support. Diarra did not reveal what AMISOM's strategy would be after taking Mogadishu, except to say that if donors provided the means to increase the force to 20,000, AMISOM could drive al Shabab out of Somalia. Now that the conquest of Mogadishu is at least momentarily complete, a moment of truth has come for the TFG and AMISOM. What comes next?
First of all, it is not clear that al Shabab's withdrawal from the capital presages their imminent defeat. The optimism Diarra projected in July is not shared, for example, by the UN Monitoring Group on Somalia and Eritrea, whose recent report (.pdf, p.12) said:
---
Follow Stories Like This
Get the Monitor stories you care about delivered to your inbox.