In Senegal, president's protegee is now his biggest threat
(Read article summary)
As Senegal's President Wade awaits a verdict from the constitutional council on whether he can run for a third term, his former protegee is gaining support for his own presidential candidacy.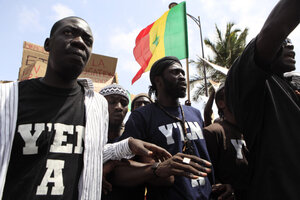 Rebecca Blackwell/AP
Idrissa Seck will likely be a major contender in Senegal's 2012 elections. As the political standing of incumbent President Abdoulaye Wade weakens – due to widespread discontent with economic stagnation, electricity shortages, and Wade's recent moves to ease the path to his own re-election – the Senegalese press is increasingly discussing Seck as a potential successor.
Seck, 51, was born a few months after Senegal's independence.* He is younger not only than the octogenarian Wade, but also than other major contenders from the 2007 presidential elections, in which Seck placed a distant second (he scored 15 percent to Wade's 56 percent). Seck is a former protegee of Wade, and served as prime minister from 2002-04, during Wade's first term. At this time he was widely seen as a likely successor to Wade. He served a term as mayor of Thies, a large city near Dakar, starting in 2002, but fell out with Wade in 2004 and was imprisoned for seven months in 2005-06. After running in the 2007 elections, he was re-elected as mayor of Thies in 2009, a post he still holds. At several points since 2007, reconciliations have been announced between Wade and Seck, but it is unclear what this means in practice.
---