Liberia's referendum goes off peacefully, despite opposition boycott
(Read article summary)
Referendum items voted on yesterday could give incumbent President Ellen Johnson-Sirleaf a boost heading into Liberia's pivotal presidential election in a few weeks.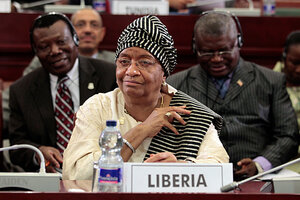 Rebecca Blackwell/AP
Weeks ahead of a pivotal presidential election, citizens of the war-battered West African nation of Liberia headed to the polls on Tuesday to cast their votes in the country's first national referendum in more than 25 years.
The vote, the results of which will be announced in about two weeks, will answer four key questions about the nation's politics, three of which have an immediate bearing on the upcoming presidential and legislative elections.
The most contentious item on the ballot would lower the residency requirement for presidential candidates from 10 years to five, a shift that could significantly expand the pool of people running in this year's election. If approved, the measure would likely benefit incumbent President Ellen Johnson Sirleaf, splitting the votes among a broad field of challengers.
Think you know Africa? Take our geography quiz.
Another proposition would change the date of the upcoming election, pushing it from Oct. 11 to Nov. 8. The shift, proponents say, would help officials avoid the logistical problems associated with conducting an election during the rainy season, which brings about 17 feet of rain to the country every year, tapering off in November.
A third proposition would eliminate the requirement for an absolute majority in municipal elections, while a fourth would increase the retirement age of judges from 70 to 75.
The referendum went off without any major incidents on Tuesday, but turnout was low and there were some significant logistical and political problems, which highlight the serious challenges the country will face when it returns to the polls later this year.
Just days before the vote, the leading opposition party, the Congress for Democratic Change, called on the country's 1.7 million registered voters to boycott the referendum, on the grounds that all four of the propositions on the ballot unduly favored the ruling Unity Party.
---