What will make the Libyan rebels' government-building attempts successful?
(Read article summary)
Guest blogger Laura Seay interviews the author of a book on governance by rebel groups about what Libya's National Transitional Council will need to do to build a stable government.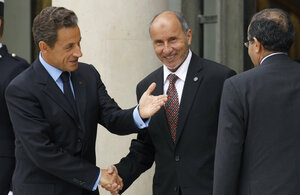 Benoit Tessier/Reuters
With the National Transitional Council (NTC) taking over in Libya, interest in how rebel movements govern is perhaps at an all-time high. Lucky for all of us, Vassar political scientist and my friend Zachariah Cherian Mampilly has a book on precisely this topic out today. "Rebel Rulers: Insurgent Governance and Civilian Life During War" is a fascinating exploration of three rebel movements: Sri Lanka's LTTE (aka, the Tamil Tigers), South Sudan's SPLM/A, and DRC's Rally for Congolese Democracy (RCD).
I cannot recommend Mampilly's book enough. If you are studying, thinking, and/or formulating policy about insurgency, governance, and state reconstruction, Rebel Rulers is a must-read. Mampilly did insane fieldwork behind rebel lines with all three of the movements during their wars. The book is an incredible work of comparative study and you're not going to find anyone better-informed on how rebels govern anywhere else.
Even better? You can get 20% discount for a limited time by buying the book at the Cornell University Press site. And, yes, there's a Kindle edition available for the e-book fans.
---