North Sudan's post-independence conflict spreads to Blue Nile state
(Read article summary)
The leader of the northern arm of the Sudan People's Liberation Movement says the growing conflict is "about democracy and transformation," not land.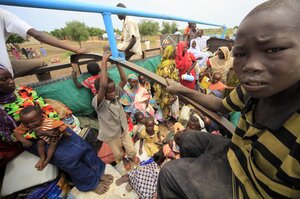 Mohamed Nureldin Abdallah/Reuters
As violence continues in Blue Nile and South Kordofan, the leader of the group fighting Sudanese government forces in the two border states called for a "holistic, integrated approach" to Sudan's multiple conflicts.
"It's not about Nuba Mountains, it's not about Darfur, it's not about Blue Nile," said Yasir Arman, the secretary general of the Sudan People's Liberation Movement- North (SPLM-N), the political arm of the opposition group, told Enough in a phone interview. "It's about democracy and transformation. The issue is about how Sudan is going to be ruled."
Arman said the current piece-by-piece approach toward resolving Sudan's multiple conflicts has not worked. A "new roadmap" based on consultations with all the political forces in Sudan is needed, he said.
Fighting between Sudanese government forces and the Sudan People's Liberation Army- North (SPLA-N) in South Kordofan has been ongoing since early June, when government soldiers attempted to disarm members of the SPLA-N in the state. The SPLA-N, comprised of residents of the two northern states of South Kordofan and Blue Nile, fought alongside their southern counterparts in the South during the civil war. But grievances in these two northern states remain unaddressed, as the specific provisions laid out for the two states in the 2005 Comprehensive Peace Agreement were never fully implemented.
---