Is Ivory Coast really a great model for international intervention?
(Read article summary)
Ivory Coast President Alassane Ouattara spoke about his country's violent electoral stalemate Tuesday at a meeting at the Council on Foreign Relations in New York.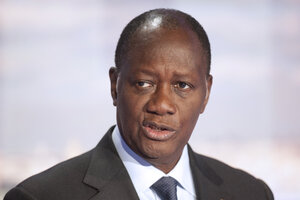 Fred Dufour/AP
Before he got to the Palestinian statehood part of his United Nations speech today, President Obama mentioned the West African nation of Ivory Coast as a prime example of international intervention done right. He applauded the will of the "international community" to get involved in a messy situation.
But who precisely got involved, and when, is pretty important to the analysis.
The fact that French forces, in cooperation with the UN, played a pivotal role in ousting renegade President Laurent Gbagbo in April led to a flurry of anti-interventionist commentary about ex-colonial meddling in African affairs.
And if the Obama administration sees Ivory Coast as the perfect argument for international intervention, the country's president sees it differently.
It turns out Alassane Ouattara, sworn in as president of the Ivory Coast after a violent showdown with his predecessor, is no fan of the African Union.
He has in the past criticized the AU for dithering while the stalemate dragged for months after he won last November's election. He spoke yesterday of the AU's failure during a meeting with the Council on Foreign Relations in New York.
---