AU forces in Somalia get 3,000-troop boost
(Read article summary)
The African Union Mission for Somalia is getting 3,000 more troops to keep its hold on Mogadishu, but there's no indication that AMISOM will be able to gain control of the country.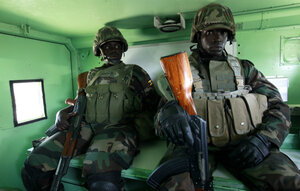 Thomas Mukoya/Reuters
Somalia's Transitional Federal Government (TFG) is battling Al Shabab, a Muslim rebel movement, for control of the southern part of the country. Assisting the TFG in this campaign is the African Union Mission for Somalia (AMISOM), which has around 9,000 soldiers drawn primarily from Uganda and Burundi. In August, Al Shabab completed a "tactical withdrawal" from Somalia's capital Mogadishu, allowing the TFG to extend its control over much of the city. Conquering the rest of southern Somalia, however, will prove very difficult.
AMISOM commanders have long asked for greater international support and for reinforcements. In July, Boubacar Gaoussou Diarra, the head of AMISOM, wrote in Foreign Policy:
Virtually everything we do at AMISOM revolves around donor support. If that support were to stall now, amid our biggest gains to date, the results for Somalia would be disastrous. The extremists, now on the brink of defeat, would regroup and renew their campaign of terror — not just in Somalia, but as they have shown, across the region and potentially the globe.
---