Africa Rising: Will Ivory Coast stop feeding the global chocolate habit?
(Read article summary)
If Ivory Coast's family-owned cocoa farms don't change the way they do farming, they will stop being able to meet the world's hunger – nay, its certified need – for chocolate. That would be bad.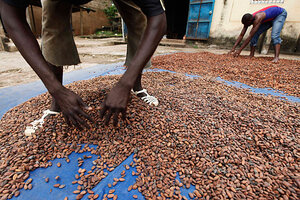 Thierry Gouegnon/Reuters
A third of the earth's cocoa grows on Ivory Coast's family-run farms, before it's trucked out, shipped, traded, and roasted into chocolate. But if the country's planters don't change the way they farm, analysts say Ivory Coast could be the cause of the most bitter shortfall in the history of human sweets: a chocolate deficit.
Minor cocoa deficits happen every few years, whenever the world's cocoa-cultivating countries pluck too little cocoa to satisfy the three million tons craved each year – but no worries. Cocoa buyers satisfy the difference with stockpiles leftover from times of plenty. Blessed with La Niña storms, 2011 could be just such a surplus year.
However, by the end of the decade, the world will demand 1 million more tons of cocoa than it now harvests, Cargill Inc. estimates, citing growth in Asia and Eastern Europe. By 2015, when La Niña's rains taper off, cocoa traders say we may see a structural, long-term, and widening gap between the amount of cocoa we want – and the amount farmers in tropics like Ivory Coast can grow for us.
"Inevitably, it would mean higher prices," World Crops editor Gary Mead says. "High-end [chocolate] could become a real luxury."
At the vending machine, low-end chocolate would likely stay on its same price shelf, he adds. Cocoa only accounts for ten percent of the cost of a cheap chocolate bar. Should cocoa become rare, analysts say chocolatiers would simply blend less chocolate into their chocolate bars, padding the treat with bogus fruit fillings and sugar wafers.
---