Africa Rising: Continent's income to triple, extreme poverty gone by 2060?
(Read article summary)
Most African countries 'will attain upper middle income status' by 2060, says a new report to be released tomorrow by the African Development Bank.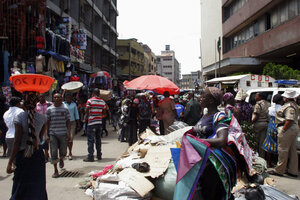 Lekan Oyekanmi/AP
• Africa Rising is a weekly look at business, investment, and development trends.
Africa – the continent with the world's youngest, poorest population – will grow by leaps and bounds over the next half century as its middle class swells, its literacy rates rise, and its average life expectancy lengthens, says a report that is to be made public tomorrow.
By 2060, "most African countries will attain upper middle income status, and the extreme forms of poverty will have been eliminated," says the report from the Tunis-based African Development Bank.
Under the most optimistic scenario, Africa's GDP would grow by 900 percent, topping out at $15 trillion by 2060 – that's a shade bigger than the current GDP of the United States. At the same time, income per capita would more than triple from last year's level of $1,667 to roughly $5,600 by 2060. That would be a big jump in Africa's standard of living, putting the continent on par with current income levels in Southeast Asia.
The strongest growth will come in East Africa, where the economies of robust nations like Kenya, Uganda, and Tanzania should average growth rates of more than 9 percent come 2030. Fifty years from now, per capita income in East Africa will be 10 times higher than it is today.
---