New US drone base operational in Ethiopia
(Read article summary)
The unarmed US drones are being used to conduct missions over Somalia and Yemen – a boost for counterterrorism efforts – but Ethiopian officials are nonplussed by the base's presence.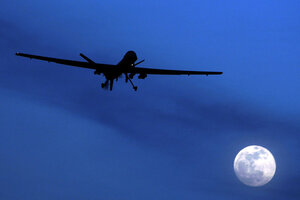 Kirsty Wigglesworth/AP/File
Last month, reports came out that the United States was building a new drone base in Ethiopia as part of a broader effort to strike targets in Somalia and Yemen. The base is already operational, and the BBC, The Washington Post, and other outlets are covering the story. As the BBC story points out, "the remotely-piloted drones [are] being used only for surveillance, and not for air strikes," though the vehicles can be equipped with missiles and bombs if commanders choose.
Here's an excerpt from the Post's piece:
The Air Force has invested millions of dollars to upgrade an airfield in Arba Minch, Ethi­o­pia, where it has built a small annex to house a fleet of drones that can be equipped with Hellfire missiles and satellite-guided bombs. The Reapers began flying missions earlier this year over neighboring Somalia, where the United States and its allies in the region have been targeting al-Shabab, a militant Islamist group connected to al-Qaeda.
---