Sahel Blog: Have US sanctions against Sudan lost their bite?
(Read article summary)
As the US lifts sanctions against South Sudan, guest blogger Alex Thurston argues that US has lost its leverage in Sudan, since Khartoum has given up the hope of normalized relations.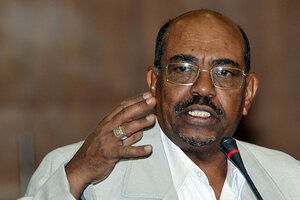 Reuters
The United States has lifted sanctions on South Sudan and has eased some sanctions on (North) Sudan, but the main sanctions on Khartoum will remain in place:
U.S. President Barack Obama Tuesday extended sanctions on Sudan for another year, saying Khartoum's policies had not yet improved enough to warrant their removal.

Obama's order maintains several sets of U.S. sanctions imposed since 1997 which restrict U.S. trade and investment with Sudan and block the assets of the Sudanese government and certain officials.
Khartoum rejected the decision:
"The government of Sudan strongly condemns the renewal of these sanctions," the [foreign] ministry said in a statement. "The sanctions imposed by the U.S. administration are political sanctions which were and still are aimed at damaging Sudan's vital interests by hindering development ambitions and plans to fight poverty."
---