Kenya stirs up region with arrest warrant for Sudan's Bashir
(Read article summary)
Criticism has been widespread since the Kenyan High Court issued an arrest warrant for Sudan's President Bashir, who is also the subject of an international arrest warrant.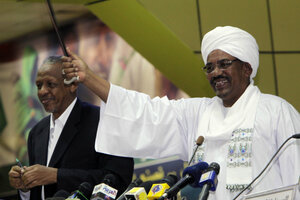 Mohamed Nureldin Abdallah/Reuters
An arrest warrant issued this week by the Kenyan high court for Sudan's President Omar al-Bashir set off a new diplomatic row. In spite of initial remarks by the Sudan foreign ministry that downplayed the warrant – chalking it up to an internal Kenyan power play on a politically sensitive issue – the ministry announced Tuesday that the Kenyan ambassador was being given 72 hours notice to leave the country.
According to an official in the Kenyan Ministry of Foreign Affairs, the announcement by the Sudanese government of the expulsion of Kenyan Ambassador to Sudan Robert Ngesu came as "a complete surprise and [was] really unnecessary.'' Echoing a public statement issued by Foreign Minister Moses Wetangula about the "very unhelpful" move by the Kenyan High Court, the official told Enough that the ruling is ''an unnecessary distraction," adding, "We are focusing on Somalia right now."
---