Recent rebel attacks in Congo highlight complexity of protecting civilians
(Read article summary)
In the volatile eastern region of the Democratic Republic of Congo, rebel attacks highlight the dire need for political, security, and justice reform.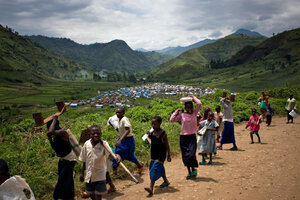 Finbarr O'Reilly/Reuters/File
This post was originally published on January 10, 2012.
Eight years after the official end to the war in Congo, violence endures in the eastern portion of the country as the region remains overrun with rebel groups leaving civilians to bear the brunt of weak civilian protection measures. A horrific example of this is the latest round of attacks on civilians by the Democratic Forces for the Liberation of Rwanda (FDLR) rebel group took place on January 2 and 3 in a remote area of eastern Congo's South Kivu province. A Congolese army spokesman recently revised the death toll, bringing the number killed to 45, and making these attacks some of the most devastating in months. The majority of the dead are reportedly women and children.
The FDLR is one of the largest and most dangerous rebel groups in Congo's volatile eastern region. The group is made up predominantly of Hutus, and claims it is trying to overthrow the government in Rwanda, however, the rebels spend much of their time committing atrocities, including mass rapes, looting natural resources, and killing civilians in eastern Congo.
Think you know Africa? Take our geography quiz.
Without a professionalized and reliable military or any form of civilian police protection against rebel attacks, civilians have increasingly been left to their own devices. The attacks took place in three villages in the Shabunda region of South Kivu—Luyuyu, Ngolombe, and Kishenya—and were purportedly in retaliation to villagers aligning themselves with a group of youth vigilantes associated with local Mayi Mayi groups who recently organized to fight the FDLR. In addition, some of these local Mayi Mayi groups have been allegedly receiving support from ex-National Congress for the Defence of the People (CNDP) forces, now within the Congolese army. Sources on the ground reported to Radio Okapi that the FDLR said they would "shoot at everything that moves" in its quest to remain dominant in the Shabunda area.
---