Congo Siasa: Congolese troops showing progress against mutiny
(Read article summary)
Guest blogger Jason Stearns writes that the Congolese army is showing new confidence as it confronts a mutiny by rebel Congolese army officers in eastern Congo.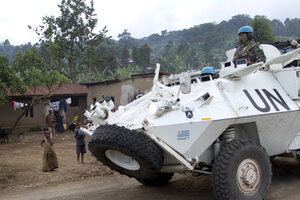 Marc Hofer/AP
• A version of this post appeared on the blog "Congo Siasa." The views expressed are the author's own.
The military situation in the Kivus of eastern Congo remains volatile, with fighting continuing throughout the weekend as Congolese army mutineers – now dubbed the M23 movement – have migrated from their Masisi stronghold to the border with Uganda and Rwanda. The potential headlines from this week should include: "Congo army finds new confidence," "a mutiny stands its ground," and "army defections spark tensions between Congo and Rwanda."
Beginning late last week, the mutiny's commander, Gen. Bosco Ntaganda and his officers began leaving the Masisi highlands, traversing the inhospitable brushland behind Nyamulagira volcano and crossing the Goma-Rutshuru road in Kibumba. A large convoy clashed with Congolese army soldiers there on the morning of Tuesday, May 8 before making it to the Rwandan border, which they followed on their way northward, toward Runyoni and Chanzu, hills on the edge of the Virunga national park. The rebels captured these two hills on May 10. There was further fighting there on Saturday and Sunday as the Congolese army deployed several of its newly-acquired attack helicopters. They repelled an attack, but have been unable to re-capture the hills.
The fighting has displaced thousands of people, including over 7,000 people who have fled to Rwanda.

The more reliable estimates of the mutineers' strength range between 300 and 800. For some perspective, that should be compared with the 6,000 soldiers from the CNDP militia that integrated with the army in 2009. The group is officially led by Col. Sultani Makenga, the former deputy commander of military operations in South Kivu. Gen. Bosco Ntaganda's whereabouts are the subject of much speculation - every hour a new rumor pops up - but the mutineers still deny they are collaborating with him.
---