Nicaraguan opposition resists Chávez's expanding 'revolution'
Some lawmakers say that President Ortega is taking a page from the Venezuelan leader's playbook to expand his own presidential powers.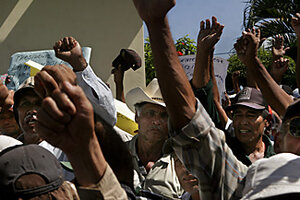 Esteban Felix/AP
Emboldened by the recent defeat of the constitutional referendum to expand Hugo Chávez's "21st-century socialist revolution" in Venezuela, the opposition in Nicaragua has started to organize against what it claims is President Daniel Ortega's similar intentions to consolidate power in this country.
Mr. Ortega, an ally of Venezuela's president, has promised to implement his own version of "direct democracy," similar to the model of government in Venezuela and Cuba.
The ex-Marxist leader, whose first Sandinista government battled US-backed contras in the 1980s, has promised that his government will deepen the country's democracy by "sharing the powers" of his presidency with the poor people through the creation of Councils of Citizen Power (CPCs). Opponents, however, claim that behind the rhetoric of Ortega's "new revolution in peace" are authoritarian pretensions similar to those of Chávez.
"As Venezuela showed us, unity and organization is the only thing that can defeat the dictatorship," says Liberal lawmaker and National Assembly leader Wilfredo Navarro.
Opposition lawmakers, who represent a majority of seats in Nicaragua's unicameral National Assembly, yet are divided over leadership issues, came together in December to form a new "bloc against the dictatorship" – the first coordinated front against Ortega's government since it came to power last January.
But the opposition bloc's silver bullet may be to reenact a stalled law that Ortega himself devised two years ago to weaken the administration of his predecessor, Enrique Bolaños.
---