Is Latin America heading for an arms race?
Recent increases in defense spending by Brazil and Venezuela are attracting observers' attention.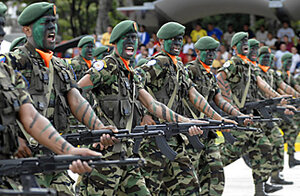 gregorio marrero/ap/FILE
Increased defense spending by Venezuela, Brazil, and Ecuador, coupled with significant arms purchases by Chile and Colombia, may mark the start of an arms race in South America – a region that hasn't seen a major war between nations in decades.
"There is a real risk of it escalating and it could become very dangerous," says Michael Shifter, the vice president of policy at the Inter-American Dialogue in Washington.
Concern has grown in the wake of recent purchases by Venezuela and Brazil. Venezuelan President Hugo Chávez, flush with oil money, has spent freely on attack and transport helicopters, Russian fighter planes, and 100,000 Kalashnikov rifles.
In neighboring Brazil, which, with half of Latin America's landmass and population, President Luiz Inácio Lula da Silva recently asked Congress to allocate 10.13 billion reais ($5.6 billion) – a 53 percent increase – for its 2008 military budget.
Those increases came after Chile invested significant sums earlier in the decade. Colombia has received hundreds of millions of dollars in US drug-war aid for military purchases. And now Ecuador is also spending more on weapons.
---