In Mexico City, a drive for proper ID
Silvia Bazua helps indigenous families get the papers they need for children to access school and services.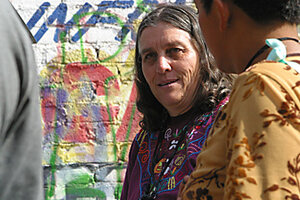 Kimberly N. Chase
High in the hills outside Mexico City, Silvia Bazua has put in a long day at the Bonampak school in Iztapalapa, one of the city's roughest districts, helping mothers overcome a key obstacle confronting their children – the lack of an official identity.
One in 6 Latin American children have no identification, according to UNICEF. In Mexico, children without birth certificates may not register in public schools, forcing many of them to work as soon as they can hawk a box of chocolates, wash the windshield of a car, or ask for a few pesos from passersby.
Ms. Bazua, a former government employee turned activist, hopes to change this. "It's a personal decision," she says. "You can either leave and forget about the problem, or you can start to fight to solve it."
Since 2001, when a census she conducted revealed large numbers of unregistered children in some of Mexico City's most marginalized areas, Bazua has been helping residents obtain birth certificates so that they can get a driver's license, register for health insurance, or attend public school.
Many of the mothers she works with are unable to read and write. Bazua puts together the complex paperwork and accompanies women to the city registrar. She obtained birth certificates for 357 people in 2007.
During the process, kids in Iztapalapa can enroll at Bonampak, located in a small building with peeling paint and broken windows. It allows children without papers to start their education. Once the process gets under way, Bazua actively supports the families. "You can't leave them alone," she says, explaining that many families get asked for bribes of up to $100. Others get frustrated and quit.
---