Fidel Castro retires as president of Cuba
After nearly 50 years in power, Fidel effectively hands the reins to his younger brother, Raul Castro.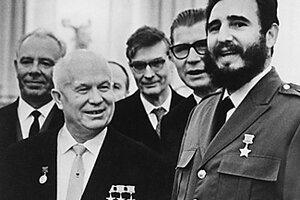 AP/File
After nearly half a century in power, Fidel Castro has stepped down from the helm of Cuba – a pivotal moment in the history of the island nation.
The announcement caps a year and a half of limbo and expectation since Mr. Castro fell ill and temporarily ceded power to his younger brother Raul Castro.
Mr. Castro came to power on New Year's Day 1959, and became the nemesis of the US as he turned Cuba into a communist state. Throughout the cold war, and well beyond, US presidents have attempted to topple him – with no success. Many Cubans have no memory of anything other than Castro as their head of state.
But beyond the symbolism, his resignation is not likely to mean an immediate change in how Cuba is run; it merely formalizes the dynamic that has been in place since Raul Castro took over as acting president.
Many analysts expect a gradual leadership transition, and perhaps some economic reforms. But Fidel will likely remain a key influence, much as he has been since undergoing intestinal surgery in the summer of 2006.
---