Odes to Mexican drug gangs lose their appeal
A string of killings of musicians who sing about drug cartels has led many to quit the genre.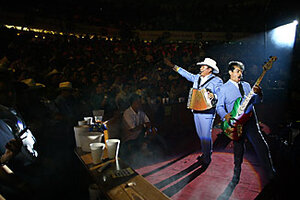 Guillermo Arias/AP/file
Songwriter Oswaldo Valdez stands with his brass band, "Los Jaibos, on a street corner here, hoping to get hired for a private performance that evening.
The real money, he knows, comes when a drug dealer requests not just a gig but a personal tribute. Mr. Valdez will sit down, listen to the dealer's story, and write him a narcocorrido.
The decades-old genre, which recounts tales of cultivating marijuana in the sierra and escaping gunfire on the streets, has been blamed by many for lauding criminals as heroes, much in the way rap music is often criticized in the US.
Calls for censorship over the years have irked musicians. But that stance is beginning to shift as drug-trade violence has escalated throughout Mexico, in number and brutality, and several narcocorrido artists have been killed as a result.
The recent string of deaths is prompting many, like Valdez, to think twice about composing the lucrative, but potentially life-threatening, lyrics.
"I will work with the low-key guys, but I will not write about murder, because then you, the singer, become a target," says Valdez, who's based in the state Sinaloa, the cradle of Mexico's narco-culture. "And we have to admit, it can generate violence, at least between the drug traffickers."
Murders' chilling effects
---
Follow Stories Like This
Get the Monitor stories you care about delivered to your inbox.