Paraguay could shift left in Sunday's presidential polls
A win by Fernando Lugo, a former liberal priest, would follow a leftist trend in South America.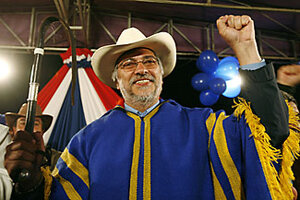 Jorge Adorno/Reuters
Asunción, Paraguay; and Mexico City
A former liberal priest with no experience in Paraguayan politics might be the force that unseats the world's longest-ruling party currently in power when voters head to the polls Sunday.
Fernando Lugo, who gave up the priesthood in 2006 for a presidential bid, is the front-runner in an election that could end 61 years of rule by the right-leaning National Republican Association, known as the Colorado Party.
Mr. Lugo's opponents have painted him as Latin America's newest leftist candidate, sure to follow in the footsteps of Venezuela's Hugo Chávez or Bolivia's Evo Morales. While he does favor center-left policies – something that plays well with pockets of society here – his main draw comes from having no political attachments in a nation rife with corruption.
"Lugo is different. He represents a new kind of opposition politician. [He] doesn't come from an obvious party background," says Brian Turner, a political scientist at Randolph-Macon College in Ashland, Va.
---