Brazil defends ethanol in food-versus-fuel fight
President Lula says the largest ethanol exporter makes fuel from sugar, not corn. And there's a sugar surplus.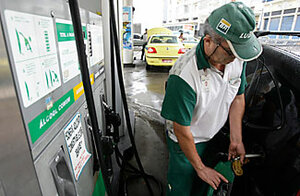 Sergio Moraes/Reuters
Brazil, the world's biggest ethanol exporter, is bristling over criticism of its biofuel.
As wheat, rice, and corn prices rise sharply, critics say producing fuel for cars is taking precedence over food for people.
"Ethanol has certainly become the scapegoat for a variety of issues, in particular the current price of food," says Toni Nuernberg, the executive director of the Omaha, Neb.-based Ethanol Promotion and Information Center. "But there is a collection of factors responsible: Drought, population growth, higher demand for protein [i.e., meat] from developing countries, and transportation costs."
President Luiz Inacio Lula da Silva says the bad publicity is unwarranted and uninformed. Many biofuel experts agree. Critics, they say, fail to distinguish between the different kinds of ethanol. Brazilian ethanol from sugar cane is up to eight times more energy efficient to produce than ethanol derived from corn, beets, wheat, or other temperate crops.
And Brazilian officials point out that there's plenty of sugar. Brazilian sugar production has doubled since the end of the last decade and is expected to grow by another 50 percent by 2021, says Marcos Jank, the president of Unica, the Brazilian Sugar Cane Industry Association.
---