Push for autonomy shakes Bolivia
The gas-rich province of Santa Cruz voted Sunday for less central government control, raising tensions with leftist President Evo Morales and his supporters.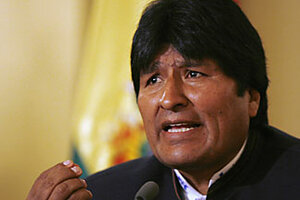 Pilar Olivares/Reuters
Here in the tropical lowlands of Bolivia, opposition leaders are talking in terms tinged with revolutionary zeal: May 4, they say, is the day a new Bolivia was reborn, since voters overwhelmingly approved statutes for more autonomy from the central government.
The referendum, which gives Santa Cruz Province control over the soy and gas that abound in its territory, deepens the rift with Evo Morales, Bolivia's first indigenous president.
But the coming days, weeks, and months will determine how historic May 4 really becomes. Is this the beginning of a less centralized form of government? Or will May 4 be remembered as just another of many clashes as opposition leaders resist a president who is part of the new crop of Latin American leftists?
No one knows what comes next. For now Mr. Morales has played down the repercussions of the referendum, dismissing it as illegal and accusing the regions of a separatist plot. But analysts say Sunday's vote could force Morales to the negotiating table and weaken his efforts to "refound" Bolivia with a new Constitution and strong central government that he says is necessary to buoy the country's long underrepresented indigenous majority.
Santa Cruz is the first of four provinces planning similar votes in coming weeks, and their combined outcome could be one the government will not be able to ignore. "Now the real challenges come," says Oscar Montes, the mayor of the neighboring lowland provincial capital city of Tarija who was in Santa Cruz to support the referendum; his province will be holding an autonomy vote next month. "The task of constructing will be great, but we have entered a new stage and there is no turning back."
---