Support wanes for Argentina's 'Hillary'
President Cristina Fernández de Kirchner's approval has dropped hard in her first six months.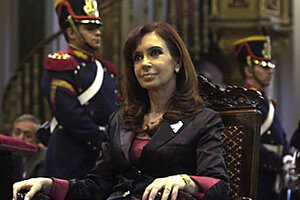 Reuters
When Argentina's President Cristina Fernández de Kirchner took on farmers who blocked highways after heftier export taxes were announced recently, she made her position clear. "Picketers of abundance," she dismissed them, not hiding the disdain in her voice.
Many of her supporters cheered the former senator on against the agribusiness barons said to be fomenting the strikes. But her obstinacy, in the wake of food product shortages and price increases, also provoked the largest anti-government protests in Buenos Aires since the 2001 crisis that led to financial collapse here.
"I voted for her, and this is not the person I voted for," says Polonia Gomez, a lifelong Buenos Aires resident, shaking her head. "She's overbearing."
"She's haughty," says Patricia Maldonado, a nurse in Buenos Aires. "I can't stand her tone."
Ms. Fernández de Kirchner – dubbed by some the Hillary Clinton of Latin America – easily glided into the presidential palace last fall on the heels of the popularity of her husband and predecessor, Nestor Kirchner. But nearly six months into her term – after an ongoing dispute with farmers that was reignited Tuesday, rows with the media, fears of looming economic troubles, and a feisty style that many say is excessively confrontational – her popularity has plummeted, according to several polls.
---