Former nun helps Mexico 'femicide' victims recover
Linabel Sarlat runs a support center to help bring economic and spiritual renewal to the women of Anapra, Mexico.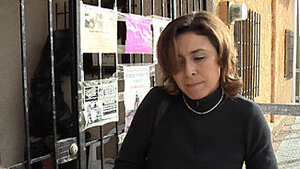 Sara Miller Llana
Life in Anapra has never been easy.
Many of the hundreds of local women murdered in the past 15 years hail from this border town, one of the most violent and marginalized communities in Mexico. And while international attention on the "femicides" abates, the psychology of fear, the cycle of poverty, and a stubborn macho culture are now stirred by a wave of drug-trafficking violence in nearby Ciudad Juárez.
It's in this atmosphere that Linabel Sarlat, a slight woman with boundless energy, works to bring economic and spiritual renewal to the women of this gruff, gray desert community.
The former nun is the first to concede that her group – which calls itself "The Ants" – is not revolutionary. But the name itself, she says, reflects their deliberate approach to the enormous task.
"Against hopelessness, there is always hope; there are always spaces of hope," says Ms. Sarlat, driving around Anapra in a white pickup truck. "And our goal is that the women pick themselves up, and with a clear heart, we create a new social fabric of equality."
Brutal history of the 'femicides'
Women from all over Mexico, mostly from deep valleys and rural towns where men had long emigrated to the US, have found their way to Anapra over the decades, drawn to US factory jobs assembling toys, shoes, and electronics.
While life was never easy – they were poor, and often alone – their lives changed forever in 1993 when bodies of raped women started appearing in ditches and vacant lots across Ciudad Juárez.
---