Mexicans in the U.S. sending fewer dollars home
Remittances peaked at $24 billion last year. A slowing US economy and tougher border enforcement is blamed.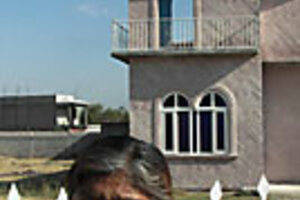 Sara Miller Llana
When the finishing touches were put on this coral-pink Roman Catholic church last year, residents beamed. Our Lady of Guadalupe was the first church built here – and it was only made possible by the toil of sons, husbands, and brothers in the US.
But today, many suspect this will be the last new edifice of any kind in some time. The flow of cash sent from the US, which over the years has helped pave the main road, build a basketball court, and construct or renovate almost every home in this 500-person village in Michoacán, has suddenly become a trickle.
Since 2000, remittances nationally have quadrupled, hitting a record $24 billion last year. Money from Mexicans abroad is now second only to oil as a source of foreign revenue. But the tide is turning – and is felt most acutely in rural Mexico. Remittances dropped 2.37 percent in the first four months of this year, compared with the same period in 2007, according to Mexico's central bank.
Analysts blame a downturn in the US economy, especially in the construction industry, which employs more than 20 percent of Mexican migrants, and the tightening of US immigration rules – including jail time in border states and greater state and local enforcement.
Mexico isn't alone in the revenue loss.
Only half of Latin American immigrants in the US, two-thirds of whom are Mexican, are sending home money on a regular basis, compared with 73 percent two years ago, according to a survey this year by the Inter-American Development Bank.
---