In Peru, women welders forge ahead
Two sisters in Lima win acclaim for breaking stereotypes – and teaching women business skills.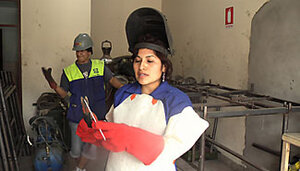 Sara Miller Llana
Villa El Salvador, a sprawling district that was once a patch of desert on the fringe of Peru's capital, Lima, is not the kind of place where stereotypes are typically tested.
But when it came time to choose a career, Maria Landa – whose parents peddled everything from shoe insoles to gum along the dusty streets here – said she wanted to be a welder.
More than 10 years later, Maria and her sister Elvira run a bustling welding business. A year ago, when an earthquake rocked Peru, killing more than 500 people and leaving tens of thousands homeless, the two were called upon to build temporary homes and schools for the displaced, constructing frames for some 1,000 tents that people are still living in today.
"Here we were, two women being chosen to do such important work," says Maria, the founder of Santa Maria Events and Industries. "It was an honor."
Today, she says, they still deal with stereotypes in a business dominated by men. But, having won a slew of awards in Peru and the US for her entrepreneurial prowess, she is helping to change attitudes in her community and beyond. Maria and her sister help other young entrepreneurs to gain a foothold in the small business world, the backbone of Peru's economy. And, at least in this small corner of Lima, they have become an inspiration for others.
"We always hold the two of them up as an example here," says Oscar Cardenas Guzman, who works for Villa El Salvador's municipal business development office. " 'If they can do it,' we say, 'you can too. It is a matter of finding the strength within yourself.' "
---