With economy slow, Canada to hold early elections
The ruling Conservative Party hopes to win at least 30 more seats to secure a House of Commons majority.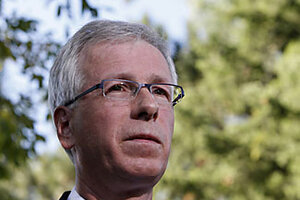 chris wattie/reuters
Canadian Prime Minister Stephen Harper dissolved Parliament Sunday and called an election next month in what some see as a risky gamble to turn his minority Conservative government into a majority before the country's economic outlook grows bleaker.
Canadians are expected to head to the polls on Oct. 14, marking a rare occurrence: a time when Canadians and Americans are headed to the polls within weeks of each other. Some pundits say the early date set by Canada's right-leaning party is tied to worries that Canadians may be swept up in the message of change articulated by Sen. Barack Obama if the Democratic leader is elected president of the United States in November.
Mr. Harper's Conservative Party, which wrested power from the scandal-plagued Liberals in Jan. 2006, is hoping to win at least 30 more seats, securing the required 155 of 308 seats in the House of Commons to hold a majority. This will be the third election in Canada in four years. In 2005, the governing Liberal Party was reelected with a minority government, but lost the confidence of the House of Commons on a budgetary amendment in 2006.
The Liberals, led by Stéphane Dion, have helped to prop up the Conservative government and keep Parliament in business by abstaining from voting on key legislation. Owing to their minority status, the Conservatives have had to temper policies, pushing through a more moderate agenda. But the informal agreement between the two parties appears to have crumbled following a meeting last week.
---