Brazil's worst logger: the government?
A new governmental report lists Brazil's land reform agency as the biggest culprit for illegal logging of Amazon rain forests.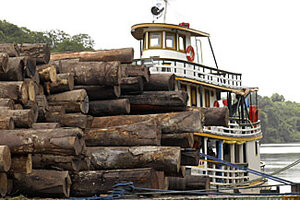 Paulo Santos/Reuters
Brazil's environment minister announced yet another series of measures to halt deforestation of the Amazon this week, but their impact was weakened not only by the fact that destruction had increased sharply once again but that the government itself was among the worst culprits.
A federal agency charged with implementing agrarian reform and giving land to the poor filled the top six spots on a list of the nation's 100 worst deforesters since 2005, according to the list, published by the environment ministry on Monday. The top 100 deforesters cut down the equivalent of 160,000 soccer fields, said Environment Minister Carlos Minc.
"The numbers are terrible," he admitted to reporters. The statistics were a surprise and an embarrassment to Mr. Minc, who took office in May after his predecessor resigned, complaining that her hands were tied by a government more interested in economic growth than environmental protection.
Minc said the ministry would investigate all 100 offenders and open criminal charges against those responsible. It slapped the Agency of Land Reform (INCRA) with a fine of 264 million reais (about $137 million).
Land reform agency denies fault
INCRA denied it was at fault and said the list was compiled with the help of out-of-date satellite photos, a recurring complaint by those accused of deforestation. The agency acknowledged that some of those peasants given land had inevitably cut down trees but said it could not be held responsible for individuals' actions after they moved in.
INCRA was being punished for being a legal entity, unlike the land owners called grileiros who falsify title deeds and cut down trees with impunity, said its president Rolf Hackbart.
"I don't see the big grileiros [on the list], they don't appear because their properties aren't legal," Hackbart said. "They are the invisible deforesters. You can't claim that destruction is the fault of land reform."
---