To go forward, Colombia looks back
Colombia's independent Historic Memory Group hopes that airing the country's grisly past can help end the decades-old war.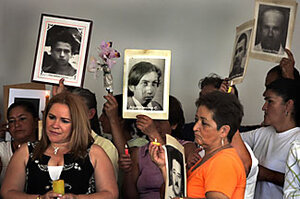 Christian Escobar Mora
For workers in this small town, Father Tiberio Fernández was a unifying force who helped them fight for their rights. For paramilitary chiefs and government forces, he was a rebel collaborator and a threat.
In 1990, he was kidnapped, tortured, dismembered, and dumped in a river, one of 342 victims in what came to be known as the Trujillo Massacre.
For years, most families of the victims of Colombia's four-decade-old civil war have quietly grieved and vented their anger among themselves.
Now their stories have become national news after last month's 300-page independent report on the Trujillo Massacre, the first of many intended to tell a fuller story of Colombia's hidden past.
In fractured, often uncoordinated, ways the victims – as well as former leftist guerrillas, former right-wing paramilitaries, and academics – are now reconstructing this nation's brutal history. Normally, this type of truth-seeking happens at the end of a conflict. Fear of retribution is a powerful silencer. But Colombians can't wait for peace.
"Society is demanding this now," says Gonzálo Sánchez, a renowned historian who leads the Historical Memory Group that compiled the report. He says Colombians want the truth and want to honor the victims.
Building an accurate record before a civil war is over poses a unique set of challenges. Prosecutions and truth-seeking before the end of a conflict have occurred elsewhere, such as in Darfur and Uganda. But these trials have been held in international courts and efforts to establish a record of events have been minimal.
---