Canada's Liberals place hopes on son of former prime minister
Justin Trudeau is a political neophyte, but also a focus of hope for a party that suffered a crushing defeat in elections this week.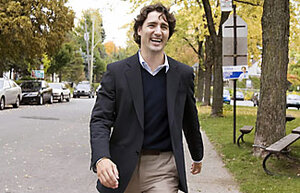 Christinne Muschi/Reuters
Radio Canada TV ran Justin Trudeau's win and election to Parliament on its ticker bar at the bottom of the screen while Liberal Party leader Stephane Dion made his televised concession speech Oct. 14.
For Liberal supporters in the constituency campaign office, Mr. Trudeau's win was the bright spot in a national parliamentary election that they call an "epic disaster" for the party, which lost 29 seats.
The Liberals went into elections knowing they wouldn't come to power, but not expecting a crushing defeat. Liberals only took 77 seats, dropping from the 106 they managed to capture in the 2006 elections that they lost. It's the lowest Liberal tally since their 1984 defeat. In terms of overall votes, at 26.2 percent, they're at their lowest since 1867.
Part of the reason for the defeat, say political analysts, was Mr. Dion's inability to unite the party. Dion never fully promoted the Liberal agenda, some say. Choosing Dion to lead "was a desperate gamble that a man who was a quiet intellectual could be transformed into an aggressive political animal," said Canadian journalist John Gray postelection analysis for CBC news. Dion didn't "reinforce the party identification of those who were declared and committed Liberals ... [or] attract those who were not committed already."
Even the Green Party, which had hoped to capture one seat, suffered defeat. It won 7 percent ov the vote, up from 4.5 percent in the last election. According to Andre Blais, a political scientist at the University of Montreal, the single-vote system disadvantages parties like the Greens that don't have a regional concentration. "There were also some concerns about the politics they were advocating," he says, adding the party's newness may be a factor.
---