In Ecuador, gang members trade guns for scissors and nail polish
How a former nun gets rival gangs to run their own legit businesses.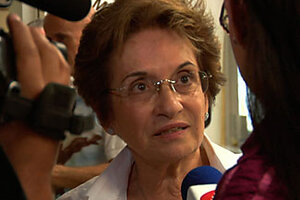 Zach Johnston
In the most dangerous neighborhood of Guayaquil – Ecuador's largest and most crime-ridden city – a dozen youths are busy working in the Paz Urbana Print Shop.
By the entrance, a young man designs a T-shirt logo with graffiti paint. In the back, amid the hip-hop music and paint fumes, tattooed young men with baggy pants and baseball caps compile an order of worksheets for schools.
The print shop is part of an organization of small businesses, including a bakery, a beauty parlor, and a dance school, with a surprising business model – they are entirely run by Ecuadorean street gang members, many of whom were once rivals.
At the heart of this operation that has helped produce a dramatic drop in neighborhood crime, is a former nun and school teacher, Nelsa Curbelo, from Uruguay.
Upon first glance, the gentle, grandmotherly Nelsa – as everyone calls her – looks out of place among the gangster paraphernalia. But later, watching her comfortable interactions with the tough-looking youths, the affection and respect she commands is evident.
"[Nelsa] supports us a lot, she gives us advice and we are very grateful. We are here because of her," says Daniel Legovia with a smile as he takes a break from his print shop duties. "Before I was always getting in trouble. If we weren't throwing rocks at each other, we were shooting each other, but now, thank God, we've changed."
In 1999, Nelsa founded Ser Paz ("Being Peace"), an organization that helps gangs reintegrate into society by providing professional training and education, as well as outlets for creative expression. Gangs can apply for microloans from Ser Paz to start their own small businesses, so long as they agree to give up crime and to work with rival gang members. Now five gangs boasting such names as the "Latin Kings" and "Iron Nation" work side by side, their old rivalries buried under the buzz of shop talk.
---