Bolivians set to vote on new constitution
Bolivians head to the polls Sunday to vote on a controversial new charter that boosts rights for indigenous people and nationalizes gas reserves.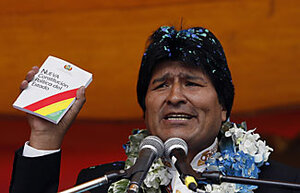 Juan Karita/AP
Santa Cruz and La Paz, Bolivia
The word "No" papers the prosperous, tropical city of Santa Cruz, the cradle of opposition to Bolivia's President Evo Morales. Posters, bumper stickers, and even billboards urge residents to reject a new constitution to be voted on Sunday.
Yet the first placard one sees upon entering the city's Plan 3,000 indigenous neighborhood is in support of the president, urging a "Yes" vote. "We feel divided here from the rest of Santa Cruz," says resident Benjamin Penaranda. "Here we support the constitution. It will give us rights we never had."
It's just one example of the class, cultural, and geographical divisions that have roiled Bolivia since Mr. Morales, the country's first indigenous president, came into office three years ago promising to "refound" the nation.
The centerpiece of his mission is a new constitution that he says would reverse decades of discrimination against the indigenous majority – his critics claim it's just a power ploy.
In 2-1/2 years of legal and political wrangling leading up to this vote, dozens of people have been killed, buildings have been ransacked, and highways have been blocked as Morales supporters and opponents battled over what the future of the country should look like.
Now that the much-delayed referendum, which most pollsters predict will pass, is on the table, the question remains: Will this be the final act, putting an end to the violent chapter in the nation's transformation? Or will divisions – between the eastern lowlands and the western highlands, indigenous and not, rich and poor – remain? The most explosive flash points might be over for now, but most agree that conflict will simmer long into the future.
---