Why Brazil is weathering the global financial crisis this time
President Luiz Ignácio Lula da Silva met with French President Nicolas Sarkozy in Paris Wednesday before heading to the G-20 summit in Britain.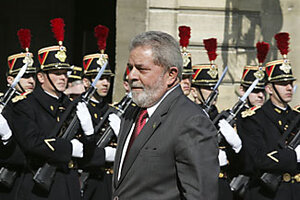 Jacques Brinon/AP
Lolita Morinigo has lived through sharp ups and downs in the Brazilian economy over the past 24 years as the owner of two clothing stores here.
It's a downtime now, with consumer spending dropping and Brazil plunging headlong into a recession. Business at Ms. Morinigo's two Flamengo neighborhood stores has fallen by 40 percent from a year ago.
On a recent Saturday, Morinigo sat on a couch in her women's clothing store, and her four salesclerks stood idle. They had no customers.
"But I don't think the crisis will last long," Morinigo said. "We've got a new collection coming out next month. The situation will improve."
While analysts expect a tough 2009 for Brazil, no one expects the global crisis to unleash hyperinflation, prompt huge layoffs, or cause an economic depression this time in the world's ninth-largest economy.
With inflation tamed, the Central Bank brimming with dollars, and businesses increasingly competitive on a global stage, Brazilian officials expect to weather 2009 and begin growing again in 2010. The government is spending billions of dollars to create construction jobs and has reduced sales taxes to stimulate sales of new vehicles. Brazil is benefiting today from putting its economic house in order during the past 15 years.
"I say every day Brazil was the last country to be affected by the crisis," Brazilian President Luiz Inácio Lula da Silva told reporters after meeting with President Obama on March 14. "But we also have the possibility to be one of the first countries to resolve and get out of the crisis. We don't face any problem in our financial system."
---