As G-20 battles protectionism, a cautionary tale in Ecuador
The country has put steep tariffs on an array of goods. Seventeen of the world's 20 largest economies have broken recent promises not to take protectionist measures.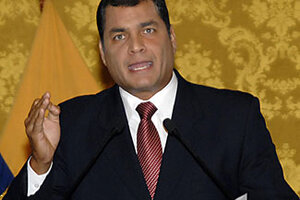 Jose Almeida/NEWSCOM
Lucia Espinoza walks through an aisle of her local supermarket in Quito with her one-year-old daughter slung on her hip, perusing the shelf of shampoo bottles. She eyes Johnson & Johnson, but then chooses a brand with a label that reads "Ecuador First": It is half the price.
"They shouldn't force us to buy products just because they are national," says Ms. Espinoza, shaking her head. "It's not always the best quality."
Her complaint centers on her country's reply to the global financial crisis – steep new tariffs on some 630 imports, from cellphones to soap, which have effectively put anything but Ecuadorian-made goods out of reach for the nation's consumers. The policy, which President Rafael Correa says is necessary to safeguard the Ecuadorian economy, is believed to be the world's most protectionist response since the financial crisis unfolded.
"Ecuador is really the outlier here, it's been the most enthusiastic," says Gary Hufbauer, a trade policy expert at the Peterson Institute for International Economics in Washington. "From what I've heard, it's been the most dramatic example of protectionism."
---