Are Mexican drug traffickers armed with US guns?
Most are, say US officials. But the NRA says the Obama administration is inflating the scope of the problem and threatens to undermine the Second Amendment.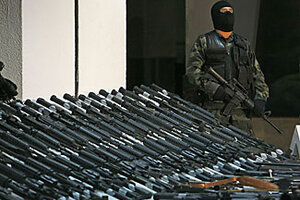 Gregory Bull/AP/FILE
For two years, Uriel Hernandez and his associates purchased an assortment of handguns, shotguns, and assault rifles in the San Antonio area and shuttled them across the Mexican border. In all, 200 weapons were smuggled in – an operation that got Mr. Hernandez a gunrunning conviction in US federal court April 2.
In the last four years, the US has prosecuted more than 380 similar cases of gun smuggling to Mexico. But now the source of the weapons used in Mexico's drug violence, which has claimed more than 7,000 lives since last January and is creeping into US cities, is emerging as a key – and controversial – issue in the relationship between the two countries.
In recent weeks, US and Mexican officials have reached an unprecedented mutual agreement on the problem, including plans to create a shared ballistics database to track weapons used in crimes, and X-ray scans of southbound trains. But gun-rights advocates say officials are exaggerating the responsibility the US bears in arming Mexico's drug cartels and are attempting to undermine the Second Amendment to the US Constitution.
A similar debate erupted during the Clinton administration, says Raul Benitez, a security expert at the National Autonomous University of Mexico, when the president tightened controls on the sale of assault weapons. "The debate stopped under [President] Bush. With the Obama administration, it has started again, especially as the US recognizes its role in stopping arms-trafficking," he says.
---