Mexico City returns to normal as swine flu restrictions fade
Restaurants and offices reopened Wednesday. High school and university students return to school tomorrow.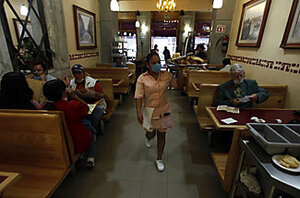 Eliana Aponte/Reuters
Mexico City rubbed its eyes Wednesday morning, emerging from a five-day economic shutdown that authorities ordered to contain the swine flu – bringing a curious calm to one of the world's most frenetic capitals.
Men and women, dressed in suits and holding briefcases, walked down city streets en route to work as offices reopened Wednesday. Street vendors unfolded tables and chairs on sidewalks. Mario Antonio Figueroa, a juice vendor, says he's never been so happy to wake up at 4 a.m. to get to his spot on the street. "I just hope they let us keep working," he says, rinsing off a half-dozen oranges.
Restaurants also open Wednesday, as workers cleared off tables that were stacked away while takeout was the only service permitted. The next wave comes tomorrow, when high school and university students head back to class. Museums, libraries, and churches will also open doors. And by next Monday, elementary school students will be back on their playgrounds.
Residents have been eagerly awaiting the resumption of normal life. Health officials say the flu crisis, which had its epicenter here, is for now on the wane, although the death toll jumped from 29 to 42, as tests confirmed additional cases.
But while business will bounce back for many, Mexico still will contend with stigmas and diplomatic rifts that may take much longer to resolve.
"There is the cost associated with the interruption of economic activity; however, there is a second effect that is more permanent, and that is the psychological impact on people, on Mexicans in Mexico and international tourists outside Mexico," says Alfredo Coutino, a senior economist for Latin America at Moody's Economy.com. "My impression is that the impact is going to last for the rest of year."
---