Mexico's next war on drugs
Addiction skyrockets as drugs bound the US circulate within Mexico.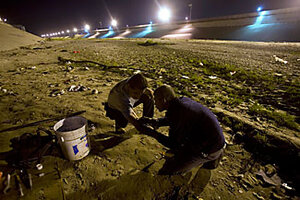 Guillermo Arias/AP
Gerardo Flores was 16 when he first was offered marijuana, and by the time he was 19 he had tried ecstasy, LSD, and cocaine. He had been arrested for stealing and expelled from school.
This is the new face of drug addiction in Mexico.
Today the country finds itself not just in a battle with drug traffickers vying for lucrative routes into the US, but with a domestic consumption problem that is ensnaring youngsters such as Mr. Flores. Fortified borders and a fracturing of drug cartels have led to a glut of drugs in Mexico, causing prices to drop and addiction rates to skyrocket. The number of addicts has grown in just six years by more than 50 percent, from 300,000 to 465,000, according to government statistics.
"There's been a big change in society; consumers are as young as 10 years old," says Lina Raquel Sotres, a social worker and head of a government-run recovery clinic in Mexico City. "All of the drugs that aren't accepted up north are consumed here. The drugs get used one way or another."
Mexico is the main transit point for drugs from South America: Roughly 90 percent of cocaine consumed in the United States goes first through Mexico, according to the US State Department.
Stricter US border enforcement, particularly after 9/11, means that drugs are more available – in corner stores, outside schools, in dance clubs, even at all-night flower stalls. "The border was closed," says Marcela Lopez Cabrera, the director of a private recovery clinic called Monte Fenix in Mexico City, "and the drugs stayed in Mexico."
---