Guatemala murder scandal could threaten the presidency
Accusations that President Alvaro Colom helped orchestrate the murder of a prominent lawyer continue to intensify – deepening divisions in a country still recovering from a 36-year civil war.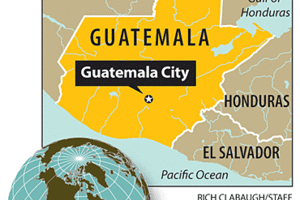 Rich Clabaugh
Guatemala City and Mexico City
The scandal surrounding accusations that Guatemala's president orchestrated the murder of a prominent lawyer is intensifying – deepening divisions in a country still recovering from a 36-year civil war. It is also, according to some analysts, handing the country its greatest threat to democracy since that war ended in 1996.
Tens of thousands of Guatemalans have taken to the streets since a video emerged in which Rodrigo Rosenberg, the lawyer, accused Guatemalan President Alvaro Colom and three others of murder and corruption.
Mr. Rosenberg, who was shot dead while riding his bike on May 10, recorded the video days earlier, saying in it that: "If you are watching this, it is because I was murdered by President Alvaro Colom, with the help of Gustavo Alejos," the president's secretary.
Mr. Colom denies any involvement and says the protests are politically motivated. His critics maintain that they are not out to topple any president but merely are seeking the truth.
On Monday, they presented a petition to Congress signed by more than 35,000 Guatemalans that calls for Congress to strip Colom of his prosecutorial immunity.
The scandal comes as Guatemala is threatened by rising levels of lawlessness, with street gangs terrorizing residents and drug traffickers taking over wide swaths of the country.
---