US may punish Nicaragua's Daniel Ortega with $64 million aid cut
Secretary of State Hillary Clinton meets Wednesday with the Millenium Challenge Corporation to decide whether to cancel US aid in response to the leftist leader's alleged attempts to steal elections.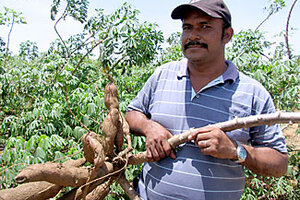 Tim Rogers
US concerns over last year's questionable municipal elections in Nicaragua could be strong enough to cause leftist President Daniel Ortega, a cold-war nemesis of the US, to lose $64 million in development aid.
In a Wednesday meeting with the board of directors of the Millennium Challenge Corporation (MCC), an international development initiative started during the Bush administration, Secretary of State Hillary Clinton will discuss whether to cancel the remaining portion of a $175 million compact awarded in 2006.
In December, the US government froze new aid after expressing serious concern about "the government of Nicaragua's manipulation of municipal elections and a broader pattern of actions inconsistent with the MCC eligibility criteria."
Those concerns haven't diminished with time, as Mr. Ortega refuses to address the electoral issue and thumbs his nose at those who question his government. The situation has MCC officials feeling exasperated.
"I mean, these guys stole the elections," says Rodney Bent, chief executive officer of the MCC.
Mr. Bent says the MCC was initially willing to "suspend judgment" of Ortega because the US "really wanted to prove that we could make it work." The MCC, which considered its Nicaraguan project exemplary, urged Ortega to find a "Nicaraguan solution" to the electoral problem so they could continue building roads, providing assistance to small farmers, and push forward on a project to title property.
'Freer' without the aid?
Instead, Ortega wrote off the MCC, saying the suspended aid made Nicaragua feel "freer" and that any aid canceled by the US will be replaced by Venezuelan President Hugo Chávez, whose list of promises to Nicaragua grows longer all the time.
---