To quell protests, Peru suspends Amazon investment laws
Indigenous groups say government is just trying to stop efforts to protect jungle from oil and logging development. More protests are planned today.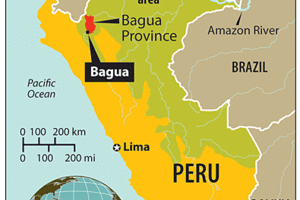 Rich Clabaugh/Staff
Lima, Peru; and Mexico City
Peru's Congress is trying to diffuse some of the worst violence the country has seen in a decade.
The legislature voted Wednesday to temporarily suspend laws governing investment in the Amazon jungle that are at the center of mass protests by indigenous groups.
But the suspension may do little to halt protests planned for today and the rising tensions that threaten to morph into a nationwide conflict.
The investment laws were passed last year to help speed up passage of a trade agreement with the US, and, the government maintains, help Peru on its course to development. But indigenous groups say the laws favor multinationals eager to drill and log and rob them of their natural resources.
Their year-long struggle came to a head last week when more than 30 people, on both sides, were killed in the town of Bagua in the northern Amazon after police were sent in to quell the blockades of a highway and oil pipeline. The violence represents some of the worst in Peru since the Shining Path guerrilla insurgency.
No reason to march?
The congressional move will put on hold two of the more controversial decrees, which encourage investment and hand the government more power to sell land in the jungle. The suspension was aimed at opening space for negotiation between the two sides.
"The decrees have been suspended ... there is no reason to cause sacrifices, encourage the population to participate in a march that has no reason and should be called off," said Interior Minister Mercedes Cabanillas at a press conference after the vote.
But protest leaders, who claim that the death toll is higher than 50, say they will not back down, because the suspension does not reverse what they consider a government attempt to undermine rights to jungles they have inhabited for centuries.
---