In Colombia, drug war targets 'narcosubs'
Traffickers have long run semi-submersibles up the Pacific coast to Mexico. New laws aim to crack down on the vessels' manufacture.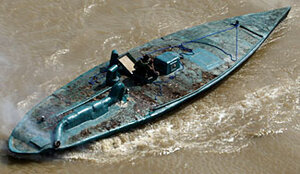 John Vizcaino /REUTERS
Lt. Oscar Calderón had been at sea with his men for four days, waiting. They watched the waves as they patrolled Colombia's Pacific coastline. On the fourth night, a US surveillance plane picked up a signal. The cocaine submarine it had detected was on the move.
Lieutenant Calderón peered into the moonless night to try to pinpoint the vessel, which rides just below the sea's surface.
Every so often the surveillance team would radio in the latest position of the sub, but the men at sea saw nothing.
Colombian drug traffickers' latest transport vehicle of choice, known as narcosubs or semisubmersibles, are made to avoid detection. Once loaded with anywhere from four to 10 tons of cocaine, only about one foot of the homemade vessels rises above water as they make the 15-day, 1,500-mile journey from Colombia's southern Pacific coast to the shores of Mexico.
"It could have been 50 meters in front of me, and even with night-vision goggles and everything, I saw nothing," Calderón remembers. But the surveillance team led Calderón and his men into a small jungle-covered estuary south of this coastal Pacific city, and what they found there made the night-long hunt worth the wait.
Deep within the maze of waterways, Calderón and his men found the semisub they had been chasing. Beside it lay 1.6 tons of cocaine in perfectly packed water-tight bricks, ready to make the trip north. Several days later, they found a clandestine shipyard where two other subs were under construction.
---