Argentina vote: Referendum on the Kirchners
Voters say that candidates in Sunday's mid-term elections pay little attention to top concerns of jobs and crime.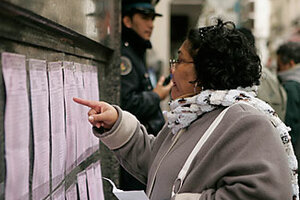 Eduardo Di Baia/AP
Nearing 5 a.m. on a recent Sunday morning, two parking garage attendants were carrying out their shift when 20 young men entered the garage doors in downtown Buenos Aires and demanded cash. They showed no arms but beat the workers until they were handed all the cash in the register: about $300.
"These things are happening all the time," says Gustavo Britos, an employee at the garage, who was not there but says that they are all on higher alert, day or night. "We see people crying on the street corner all the time because someone has stolen their purse or their cellphone. Two years ago it was not like this."
Crime, and the perception that it is rapidly worsening, tops the list of voter concerns as they head to the polls in mid-term elections today. So does job security and economic anxiety in general as Argentina's economy bears the consequences of lower soy prices, wary investors, and a global downturn. But national politics has overshadowed the electoral campaign, with former president, Nestor Kirchner, running for office and turning the congressional race into a referendum on the administration of his wife, President Cristina Fernandez de Kirchner.
"The election agenda is not set by typical mid-term election issues. People are voting to approve or disapprove of the Kirchner agenda," says Pablo Ava, a political analyst in Buenos Aires and vice president of Fundacion FINES, a social and economic research think tank. "It will be a victory or loss for the national government."
---