Coup in Honduras?
Soldiers arrested leftist President Manuel Zelaya Sunday as he planned to carry out a controversial referendum to extend presidential term limits, despite a Supreme Court ruling that the vote would be illegal.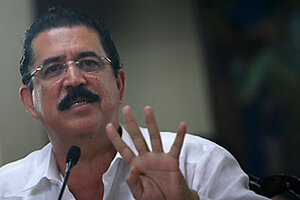 Edgard Garrido/Reuters
In a move to thwart an attempt to rewrite the Honduran constitution, soldiers have arrested President Manuel Zelaya in what one leader has called a coup and which the European Union has condemned as unconstitutional.
Just before polls were to open on a controversial referendum to allow the president more than a single four-year term, which had led to escalating political tensions in this Central American nation in recent days, soldiers surrounded the president's home and took him into military custody.
Speaking to a local television station Sunday from the airport in Costa Rica's capital, San Jose, Mr. Zelaya said soldiers arrested him in his pajamas and beat his body guards in what he criticized as "a coup" and "a kidnapping."
---