Mexico's La Familia cartel offers truce
After killing a dozen Mexican police, Michoacán drug organization goes on TV to proclaim it wants 'peace' and a 'national pact.' The government declines.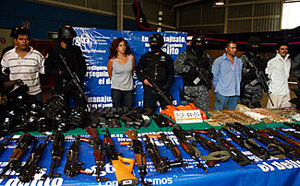 Mario Armas/Reuters
After one of their top men was arrested last weekend, gunmen from Mexico's La Familia cartel went on a rampage, shooting up police stations and leaving 12 federal officers in a pile alongside a highway.
La Familia now says that all they really want is peace and tranquility.
On a local news program in the state of Michoacán, where the drug organization is based, a man identifying himself as a leader of La Familia explained to viewers that their attacks in the past few days have been a response to police action against their families and friends.
"What we want is peace and tranquility," the leader, identified as Servando "La Tuta" Gomez, said. "We want to achieve a national pact."
"We want the president, Mr. Felipe Calderón, to know that we are not his enemies, that we value him, that we are conscientious people," he went on.
Although the legitimacy of the call was not immediately verified, the government of President Calderón immediately reacted. "The federal government does not ever dialogue, does not negotiate, does not reach deals with any criminal organization," Mexican Interior Minister Fernando Gomez Mont said. "There is no other alternative for their members but to submit to the law."
Public confidence in Calderón slips
---