Ousted Honduran leader Zelaya returns
President Manuel Zelaya said Monday on a local television: 'I cannot give details, but I'm here,'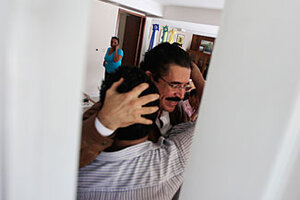 Edgard Garrido/REUTERS
Three months after President Manuel Zelaya was deposed by the military and exiled from Honduras, the controversial leftist leader says he has returned to reclaim the presidency.
"I cannot give details, but I'm here," Mr. Zelaya said on a local television station that did not air his image live. "I am here for the restoration of democracy, to call for dialogue."
One of Zelaya's key aides said he was at the Brazilian Embassy in the capital, Tegucigalpa. Brazil's Foreign Minister Celso Amorim – who said he spoke with Zelaya directly – confirmed this on Monday, saying that he hopes Zelaya's return will represent a new stage in the negotiations with the country's de facto rulers. Venezuelan President Hugo Chávez, a key supporter of Zelaya, also claimed the exiled leader was back.
Regardless of how his dramatic return plays out, the move has already accomplished an important goal: generating headlines around the globe, and fulfilling a public relations mission to stay on the international radar screen.
"He risks being overtaken by the news.... He has to stay relevant," says Christopher Sabatini, the editor-in-chief of Americas Quarterly in New York. "It's important for him because he has created this whole political persona of martyrdom, and the more he can stoke this – Zelaya as the martyred figure in the news – the better."
---