In shift, Honduras looks to itself to break leadership impasse
With international mediation efforts having failed thus far to broker a resolution to the ousting of President Zelaya, everyone from Honduran businessmen to church leaders to other politicians are offering proposals.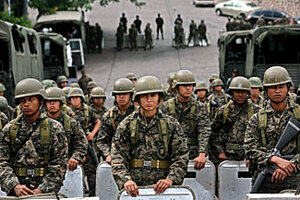 Rodrigo Abd/AP
A Nobel Peace Prize laureate tried and failed. Pressure for a brokered solution has also come, to no avail, from presidents, top diplomats, and the world´s most credible global organizations.
Now, a new round of ideas, deals, and calls for dialogue is emerging from the one place so few had looked before: Honduras itself.
Some think a solution is impossible without the outside world. But from church leaders to well-heeled businessmen, new compromise proposals from within the country are being floated to end the standoff between ousted President Manuel Zelaya and the interim regime of Roberto Micheletti.
In part, the calls are ones of desperation. Mr. Zelaya returned home last Monday in a bold attempt to regain the presidency, and tensions have since mounted. And as presidential elections slated for Nov. 29 in Honduras near – polls that the international community promises not to recognize if the standoff does not end first – there is a sense among sectors of society that they must act where such organizations as the Organization of American States (OAS) and United Nations (UN) have thus far failed.
"There are extreme sides supporting Zelaya and Micheletti, but most are in the middle," says Roger Marin, a political analyst in Tegucigalpa. "And they are getting tired, and really worried. They were afraid we were about to face real violence."
---
Follow Stories Like This
Get the Monitor stories you care about delivered to your inbox.