Latin America's worst wage gap for women and minorities? Powerhouse Brazil.
Men earn 30 percent more than women in Brazil, according to a new report from the Inter-American Development Bank. That gap is almost zero in Guatemala and Bolivia.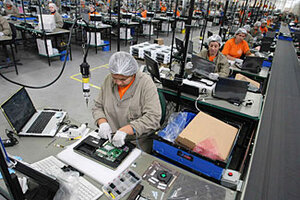 Cesar Ferrari/Reuters
São Paulo, Brazil; and Mexico City
Mention Brazil today and adulation follows. Its fight against poverty, its growing middle class, and its emergence as an economic powerhouse are all being studied as models to be applied elsewhere. (Read our three-part "Brazil Rising" series for more.)
In one area, however, the country is far behind its peers: income equality. In a new study by the Inter-American Development Bank (IADB), released Monday, Brazil sits at the bottom of a list of 18 regional countries when it comes to how much women and minorities are paid for the same job a white man does.
Men earn 30 percent more than women of the same age and education level in Brazil. In Bolivia and Guatemala, that gap is essentially zero. Compared to Mexico, the other economic engine of the region, Brazil also stands out: Men in Mexico earn just 7 percent more than their female peers. The same gaping divide appears in Brazil when comparing wages for whites and minorities – a blow to a nation where half the population considers itself black or mixed race and prizes itself on being "color blind."
"Brazil is regarded in gender and ethnic terms as a very equalizing country. Everywhere there is inclusion. This is what Brazilians like to think about themselves," says Hugo Ñopo , an IADB economist and lead author of the study. "What the statistics show is that there are important gaps.... We think of it as an invisible wall."
---