Ski jumping on plastic? How Olympians train before the snow flies.
In Lake Placid, N.Y., Vancouver 2010 hopefuls do helicopters into chilly pools and slide down refrigerated tracks. The town has had a virtually unparalleled role in shaping the rising generation of US winter Olympians.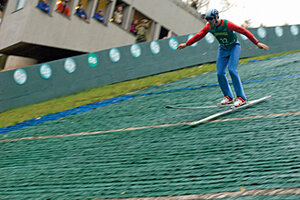 Alfredo Sosa / The Christian Science Monitor.
In 100 days, they hope to be in Vancouver, sliding down flawless ice tracks, gliding over manicured ski trails, or rocketing off jumps in pursuit of the Olympic ideal: faster, higher, stronger. But as autumn burst into brilliant reds and yellows in this storied Adirondack hamlet, Winter Olympic hopefuls were rattling down metal ski jumps to land on plastic run-outs, doing helicopters into a 46-degree F. pool, and guiding their sleds down a refrigerated track.
They are the crest of a wave, poised to roar onto the world stage this winter. Buoyed by communities like Lake Placid, where residents deeply understand the finer points of flying, free-falling, or just plain going fast on some version of frozen water, they are riding the momentum of one of America's most successful winter-sports seasons in recent memory: 2008-09.
Luge athlete Erin Hamlin – a New Yorker who trains here frequently – broke Germany's 99-win streak with a gold at the 2009 World Championships. Nordic combined athlete Bill Demong – who got his start in ski jumping at Lake Placid's Olympic complex – helped the US to sweep all three individual golds at skiing World Championships last season, making him a serious contender to win America's first-ever medal in the sport at the 2010 Games.
---