The rise of Mexico's La Familia, a narco-evangelist cartel
Mexico and the US are working together bring down Mexico's newest, most violent drug cartel. Last month, 303 alleged La Familia members were arrested in 38 US cities. Fifteen members were indicted Friday in Chicago.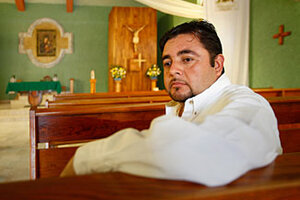 Tony Avelar/The Christian Science Monitor
They hand out Bibles to the poor in the rural foothills of the state of Michoacán. They forbid drug use, build schools and drainage systems, and declare themselves the protectors of women and children.
But this is no church group. This is La Familia Michoacána, Mexico's newest drug-trafficking gang, which now reigns over Mexico's methamphetamine trade. What began as a self-declared vigilante group doing "the work of God," now is seen as the nation's most violent criminal group.
Its influence stretches well beyond this patch of Mexico called "La Tierra Caliente" or "Hot Land." Last month, in the largest coordinated action against a Mexican trafficking organization north of the border, the United States arrested 303 alleged La Familia affiliates in 38 US cities. It was the culmination of "Project Coronado," which has nabbed more than 1,100 suspects in 44 months.
On Friday, federal officials said 15 members of the group were indicted for distributing cocaine in the Chicago area. Police seized 550 pounds of cocaine and $8 million in cash. The indictments, said officials, were part of their ongoing efforts to crackdown on the cartel's activities in the US.
The swift rise of La Familia – an odd pretzel of narco-evangelism – is a source of macabre fascination in the Mexican media. But its exploits are also a case study in how a drug-trafficking group attempts to corrupt state institutions, and how Mexico, with the help of the US, is attempting to overcome their brutality, sway, and deep pockets.
---